Postponed to 2021 - 5th conference - Media and Governance in Latin America
EVENT
Date:
15 June 2020, 9.00 AM
-
16 June 2020, 6.00 PM
Venue:
Institute of Latin America Studies, Stockholm University
We have decided to postpone the conference Media and Governance in Latin America: Communication in Contested Political Scenarios due the COVID-19 pandemics. The new event will take place in June 2021 at Universitat de València, Spain. If you have any questions, contact the organising committee at conference.mediagovla@gmail.com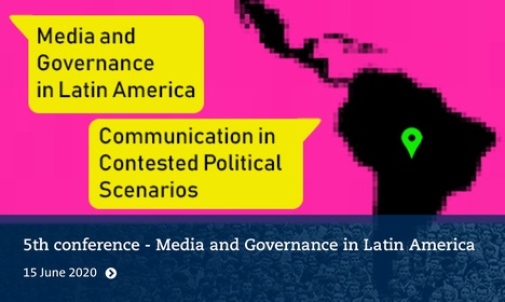 The conference's goal is to promote an intellectual debate on the role of the media in the promotion of good governance in Latin America. By bringing together senior scholars and young researchers, this initiative seeks to provide a space of exchange about the theoretical and methodological relevance of current debates. This conference aims to address academic debates in the field of global media, media and development, and the de-westernization of media studies. It will provide international scholars the opportunity to discuss theoretical and methodological approaches, country-based case studies, comparative projects and academic collaborations in a transdisciplinary setting.
The Call for Papers to the 5th Conference Media and Governance in Latin America is now open and can be accessed here. The deadline for submissions of abstracts is January 30
Important Dates:
Submission deadline: 30/01/2020
Decision on acceptance: 28/02/2020
Registration opens: 02/03/2020*
Program release: around 20/05/2020
Contact: conference.mediagovla@gmail.com