Indigenous Environmental Governance: Strategies and Struggles for Safeguarding the Future
EVENT
Date:
29 November 2017, 8.00 AM
-
30 November 2017, 6.00 PM
Venue:
Stockholm University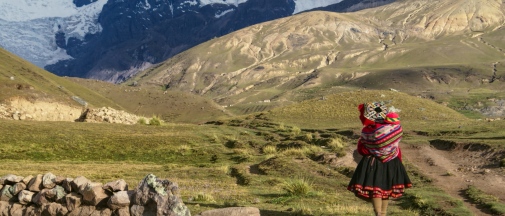 In November 2017, the Institute of Latin American Studies, in collaboration with the Department of Political Science and the Stockholm Resilience Center (the safeguarding project and SwedBio) at Stockholm University and Mistra Geopolitics will organize a workshop focused on exploring the idea and practical possibilities of indigenous environmental governance. The workshop also enjoys close cooperation with the University of California at San Diego (UCSD), the Norwegian University of Life Sciences (NMBU), Swedbio as well as a series of indigenous communities representatives in Latin American and Scandinavia. In its focus on indigenous environmental governance the workshop will explore the diverse strategies and struggles used by indigenous populations to safeguard environmental justice, human rights and biodiversity. Whilst the majority of the presentations will focus on Latin America, the organizers hope that the wider relevance of the workshop will also be visible. This workshop is funded by Riksbankens Jubileumsfond.
The workshop will bring together social scientists, legal and human rights professionals, environmental and climate scientists, and indigenous leaders and policymakers. The workshop aims to establish a research network focused on the problematic linkages that exist between extractive industries, indigenous peoples' governance, ecosystems and biodiversity, and climate change. Scholars have focused on how indigenous peoples and local communities have born the brunt of natural resource extraction and how this development model has exacerbated racial inequalities, fomented socio-environmental conflict, and contributed to climate change affecting key biodiversity and ecosystem services upon which these groups directly depend for their livelihoods. The research network will bring an important new perspective to this problem: rather than reinforcing the stereotype of indigenous peoples reacting to changing circumstances through acts of resistance, we analyze how indigenous people and local communities respond proactively to these threats. Through the mergence of traditional knowledge and practice with new scientific understandings and mechanisms, indigenous communities, are in the process of exploring alternative ideas of development and asserting paths to socio-ecological balance. Whilst with significant threats, challenges and contradictions we propose that it might be of value in a time of climate change and environmental degradation to consider the possibilities of "indigenous environmental governance". More specifically, the workshop will focus on three areas of concern:
1. Human rights and political participation for a good life for people and nature: To what extent have the constitutional and international processes created meaningful forms of indigenous political participation for exercising social-ecological related human rights? What do the case studies show us about the human rights and biodiversity nexus, citizenship, environmental justice, and democratic decision-making for managing the benefits of nature to people? Are the processes effective in reaching local aims of recognition, redistribution, participation and sustaining socio- ecological integrity?
2. Indigenous Governance, endogenous development and sovereignty: How effective are the diverse local populations' initiatives in shaping extraction projects according to their own aims and interests? That is, what forms of governance and resource sovereignty are developing? What are the obstacles and limitations of these forms of governance at different levels including the state and international fora? How can human rights law be articulated with discussions of governance for a "Good Life" for achieving the Sustainable Development Goals?
3. Climate change: Who will benefit and who will lose in adaptations to climate change? How do climate change discourses and policies reinforce or challenge existing extractivist capitalist development projects? How will local communities manage the multi-scalar political contestations and negotiations that climate change brings? To what extent international negotiations offer spaces for linking the rights of indigenous peoples and local communities to ecosystem-based approaches to climate change, biodiversity and endogenous development?
The workshop will bring these critical issues into the public eye, and bring investigators, indigenous activists and policymakers into dialogue.

If you are interested to know more about the workshop, please contact Maria-Therese Gustafsson (maria-therese.gustafsson@statsvet.su.se) and Claudia Ituarte-Lima (claudia.ituarte@su.se).
The workshop is hosted by the Institute of Latin American Studies and organized in collaboration with the Department of Political Science, Stockholm Resilience Center at Stockholm University, University of California at San Diego (UCSD), the Norwegian University of Life Sciences (NMBU)​ and SwedBio.